Import track and trace
An industry leading Track & Trace system developed to allow our clients and overseas partners access to up to date information relating to their shipments. When in the system you will need one of three pieces of information
a) Your house bill or landing number
b) Container number
c) Freight Movers or Cargo Movers job number
Nationwide DG LCL trucking services to Shanghai port
- 118 China cities (ex-factory) to Shanghai Port
The service is in partnership with our DG agent in Shanghai "Ginger Logistics" who are part of the Amass International Group in China. All collection rates are ex-factory to our DG warehouse in Shanghai – located at Lianfa Rd, Jinshan District, Shanghai. The collection rates do not include local FOB charges in Shanghai for HAZ cargo, they can be quoted to your agent in Shanghai or by us on application.
If your clients are shipping FCL for small quantities ex China due to the local ports restrictions on the handling HAZ LCL then we are hopeful this new service will offer a competitive solution.
Provided Standard DG IMO trucking per w/m rate
118 Major Cities pickup points in China
Haul Class 2, 2.1, 3, 4.1, 6.1, 8 & 9.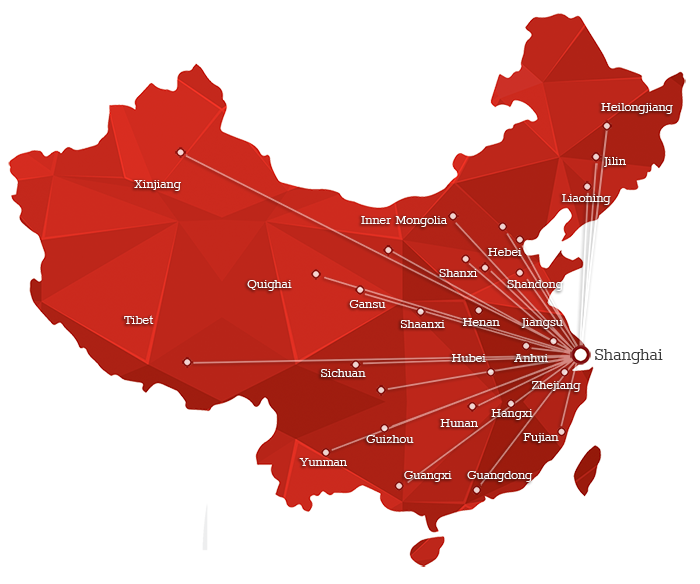 Anqing
Baotou
Cangzhou
Changshu
Chengdu
Dalian
Foshan
Gulin
Haikou
Haozhou
Huaibel Huzhou Jiaozuo Jinhua Jurong Langfang Lianyungang Lishui Luohe Meishan Nanjing Ningbo Qionglai Rugao Shaoxing Shijiazhuang Taian Takzhou Tianjin Urumqi Wenzhou Wujiang Xian Xinxiang Yangzhou Yinchuan Yueyang Zhangjiakou Zhongshan Zibo
Anyang
Beijing
Changchaui
Changxing
Chongqing
Dongguan
Fuzhou
Guiyang
Handan
Hefei
Huainan Jiande Jiaxing Jining Kunming Lanzhou Liaocheng Liuan Luoyang Nanchang Nanning Qingdao Quzhou Shangrao Shenyang Suqian Taicang Tangshan Tongling Weifang Wuhan Wuxi Xining Xuzhou Yantai Yingtan Yuncheng Zhenjang Zhoushan
Baoding
Bengbu
Changsha
Changzhou
Chuzhou
Dongying
Guangzhou
Haerbin
Hangzhou
Huaian
Huhhot Jiangyin Jinan Jinzhou Kunshan Lasa Linyi Liuzhou Maarshan Nanchong Nantong Qinhuangdao Rizhao Shantou Shenzhen Suzhou Taiyuan Tianchang Ulanqab Weihai Wuhu Xiamen Xining Yancheng Yichang Yiwu Zhangjiagon Zhenzhou Zhuhai
Anqing
Anyang
Baoding
Baotou
Beijing
Bengbu
Cangzhou
Changchaui
Changsha
Changshu
Changxing
Changzhou
Chengdu
Chongqing
Chuzhou
Dalian
Dongguan
Dongying
Foshan
Fuzhou
Guangzhou
Gulin
Guiyang
Haerbin
Haikou
Handan
Hangzhou
Haozhou
Hefei
Huaian
Huaibel
Huainan
Huhhot
Huzhou
Jiande
Jiangyin
Jiaozuo
Jiaxing
Jinan
Jinhua
Jining
Jinzhou
Jurong
Kunming
Kunshan
Langfang
Lanzhou
Lasa
Lianyungang
Liaocheng
Linyi
Lishui
Liuan
Liuzhou
Luohe
Luoyang
Maarshan
Meishan
Nanchang
Nanchong
Nanjing
Nanning
Nantong
Ningbo
Qingdao
Qinhuangdao
Qionglai
Quzhou
Rizhao
Rugao
Shangrao
Shantou
Shaoxing
Shenyang
Shenzhen
Shijiazhuang
Suqian
Suzhou
Taian
Taicang
Taiyuan
Takzhou
Tangshan
Tianchang
Tianjin
Tongling
Ulanqab
Urumqi
Weifang
Weihai
Wenzhou
Wuhan
Wuhu
Wujiang
Wuxi
Xiamen
Xian
Xining
Xining
Xinxiang
Xuzhou
Yancheng
Yangzhou
Yantai
Yichang
Yinchuan
Yingtan
Yiwu
Yueyang
Yuncheng
Zhangjiagon
Zhangjiakou
Zhenjang
Zhenzhou
Zhongshan
Zhoushan
Zhuhai
Zibo