Daygard offers an alternative for DG shippers
As published in Freight Business Journal Feb 20 edition.
With shipping lines and insurers taking an increasingly hard line over hazardous goods – and hefty fines for those caught breaking the rules – an Essex-based NVOCC is offering an affordable alternative for shippers of these commodities.
Daygard Logistics Group, headquartered in Thurrock, offers a regular container consolidation service from Shanghai for LCL shipments of hazardous goods (classes 2 to 9 including lithium batteries) together with a specialised container service from Shenzhen for LCL shipments of lithium batteries. Both of the receiving point warehouses are fully licenced to handle DGs and cargo is segregated accordingly. (The DG consolidation box from Shanghai will also carry batteries.)
Since the explosions at a container freight station at the port of Tianjin in 2015, which killed 173 people, the Chinese authorities have clamped down increasingly hard on the handling and shipping of all classes of dangerous goods. There are very strict legal requirements on who can handle and ship them. Paradoxically, though, this has increased the incentives for unscrupulous shippers to try to evade the rules, for instance by failing to declare DGs, and there have been a number of serious ship fires from undeclared hazardous goods.
However, says Daygard director, Rory Munday, the company offers a specialised container consolidation service from 118 Chinese cities via Shanghai to the UK. This gives DG shippers the reassurance of a regular service together with much lower costs than would be involved in putting DG shipments into a regular NVOCC container, or having to use a dedicated FCL container for an LCLsized DG shipment. Daygard's consolidation service is purely for DG shipments and no non DG shipments are loaded into these containers, which reduces any cross contamination issues.
The relatively low cost of the Daygard DG consolidation could even take away some of the incentive for shippers not to declare DGs, especially bearing in mind the hefty fines imposed on those that get caught. The same is true for the dedicated battery consolidation service from Shenzhen which also connects the whole of Southern China.
From many Chinese ports, the only alternative until now has been to use a full container for an LCL-sized shipment, at great cost, says Munday.
There is also the option of shipping DGs through Hong Kong, but that tends to be more expensive.
Munday adds that the DG consolidation services give Daygard a useful selling point in a very competitive NVOCC market. Daygard also handles a large amount of non-DG consolidations and he considers that the company is in fact one of the largest such operators in the UK market handling on average 260teu of non-DG consolidated boxes a week from China, the Far East, South East Asia, India, South Africa and North America.
The company also seeks to offer services into as many UK ports as possible including Felixstowe, Southampton and ports in the North such as Liverpool in order to reduce road miles and carbon footprint.
Daygard also offers export consolidation services from the UK to worldwide destinations. For the future, Daygard would consider adding pure DG services from some of its other origin points such as North America. However, handling and shipments of these goods in these countries is not as tightly controlled as it now is in China so there is less of an incentive to use a specialised service currently.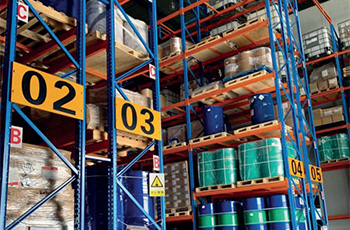 ---
Return to news page